When investing in Turnkey property there are a variety of opportunities in the market place. Depending on the skill, capital, location, and/or interests of the investor, several options may be available. Investing in hotels vs. private real estate is a leading consideration these days. Hotel room Investments offer a piece of a resort, without the hustles of the operation. Private investments often offer the chance to become more involved in a variety of ways. Fix and flips are becoming more popular in the private market as online lending provides easier access to capital but many private investors are looking for something faster and easier. For these investors, turnkey properties are often a top choice.
TURN-KEY TAKEAWAYS
Turnkey property investments are one of several options available for investors in the resort & private real estate market.
Turnkey properties often produce income and cashflow upon purchase.
Investing in hotel rooms is one of the best real estate turnkey investment options in 2020
With the right due diligence, turnkey properties can start to generate income immediately with very little time and effort required by the owner.
Turnkey property investments require very little time and effort to rent out. Though they might not always be the cheapest option, what makes these properties unique is that they've already been rehabbed, usually by a hotel and hospitality group, or a specialized turnkey real estate company. This is before they're put on the market. In the case of a house, there's often a tenant in the home already when the sale closes.  Typically, those same firms also offer property management services to the investor. That means the property manager is the one who gets a call when the air conditioner breaks down, not you. In the case of a hotel room investment, the hotel's hospitality team will take care of the rental and the maintenance of your property.
In any case, having a rental property can be a great investment. You get a steady stream of income from rents that help to pay off the costs and return a profit. However, buying any type of property and specifically a property you plan to rent to others will come with risks. That's why it is important to make some good decisions in the following areas when going through turnkey property due diligence.
Turnkey Property Investment vs Hotel Room Investments
Turnkey homes: Know Your Property
While turnkey homes usually require quite a bit less time than other types of real estate, investors shouldn't underestimate the amount of due diligence they have to do. The biggest question, of course, is whether the property itself is a good value. Some novice investors get so enchanted by the term "turnkey" that they assume all homes with that label are fail-proof. Unfortunately, that's not the case.
Experts say you should always visit the property in person before sealing a transaction, even if that means flying to another city. Real estate property is a major purchase and investment, so it's crucial to know exactly what you're buying. Seeing the property up close also gives you a better sense of the neighborhood, which will have a significant impact on the property's long-term marketability.
For added security, seasoned investors say it's always a good idea to get a professional property inspection as well. The rehab company might wow you with a dazzling kitchen and fully renovated bathrooms, but you want to make sure the less-conspicuous features of the home – the furnace and roof, for example – are in just as good a shape.
Know Your Property Manager
If your turnkey property comes with a property manager or property management services, it is important to understand their terms. Property management may be available to provide a full range of services like maintenance, rent collection, and building cleaning. Some property managers may also be responsible for filling tenant vacancies, running background checks, and signing leases. Since a property manager's services will usually vary it is important to know exactly what they are liable for and to get it in writing through a contract.
When considering a property manager associated with a turnkey property, here are a few more questions to ask:
How much experience does the firm have?
On average, how long does it take to find a new tenant for vacancies?
Does the company provide financial reporting through monthly and annual statements that can help you track revenue, expenses, and income?
What are the fees?
Know Your Ownership Arrangement
There can be a variety of ways to structure real estate investments, especially within the private market. Knowing your ownership arrangement will usually be a factor in your overall investment decision. There are several structures that can be used. Real estate investment groups (REIGs), partnerships, and limited liability companies are a few of the options. In these types of business structures, the company usually has most of the responsibilities and offers many convenient benefits. These structures usually also pass-through income to owners as partners. This means income may be reported on a K-1.
Less complex agreements may also exist. In many cases, the financier becomes the independent owner. Independent ownership can require personal management or the procurement of third-party services for help in property management. In some instances, independent owners may look to set up separate expense accounts authorized for third-party property management use.
Overall, it is important to know your arrangement and to be comfortable with the associations. Each type of structure comes with its own provisions so you should understand and agree on all of the nuances before making a final decision.
The Bottom Line
Turnkey homes and properties are an interesting alternative in the real estate market. They require little renovation or maintenance. They are also usually available for tenants immediately, which means immediate income flows once vacancies are filled.
To be sure, investing in real estate is never a risk-free endeavor. However, with the right due diligence, turnkey properties can come with low risks and high returns.
Hotel Room Investment – Best Turnkey Property for Cash Flow Investment 2019 – 2020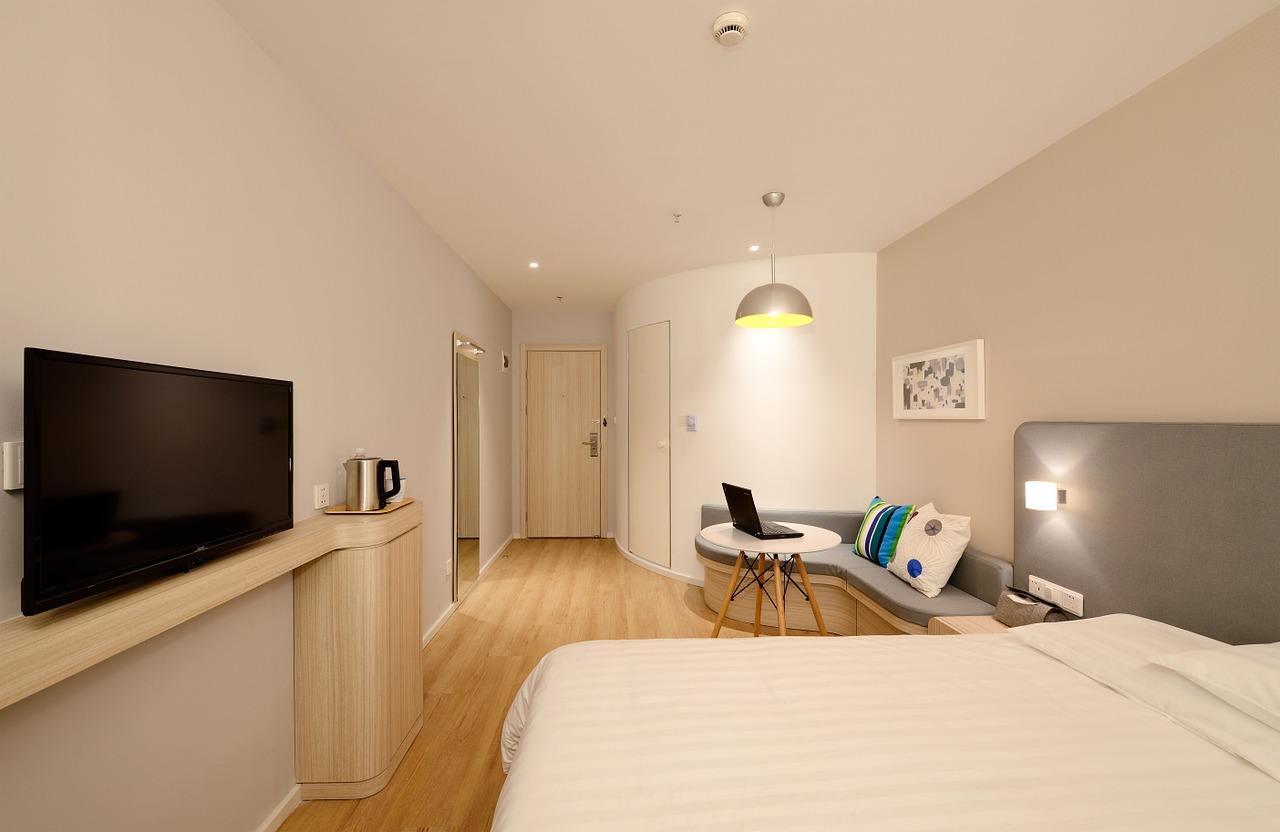 When you think about property investment, you probably never thought about hotel room investment strategies. Most have an image of a house or flat in mind. However, there are other lucrative forms of property investment available, and one that is growing in popularity is that of hotel rooms.
Typically, houses, flats, and apartments are all long-term investments that can bring in substantial income. Nonetheless, the property market can fluctuate and even collapse, and so those wanting a shorter-term investment are moving into the world of hotels.
Turnkey Hotel room investment
Investing in hotel rooms and resorts replicates the turnkey rental market very well. Usually, they target shorter-term tenants, and they have a hotel license paired with lots of facilities. As it is part of a hotel, it is up to the hotel management team to advertise and fill the room, take care of the booking, collect the fee and clean the room, and as this is all part of the contract, there are no extra hidden fees to pay. Effectively, they do all the work and then pay you the money that you are owed.
Your monthly income from your hotel room investment is usually in the region and 7 percent or 9 percent and is guaranteed. Most hotel room investments last for around five to ten years, and at the end of the agreed term, you can sell the room back to the hotel management team with capital growth of up to 20 percent. However, if you choose to sell before the end of the agreed term, you are unlikely to get back the full amount of your investment.
Hotel investment benefits
The obvious benefit of investing in a hotel room over a house is the cost. A lower point of entry means that you make a cash purchase that is the equivalent of the deposit you would pay on a property.
As the management team takes care of the day-to-day running of the hotel room, it is an easy investment from a work point of view. You are kept free of stress and can enjoy a yield that is often higher than that of many properties.
Many investors are likely to be worried about the periods in which the room is empty, but not only will this have been accounted for, the management team is likely to be incentivized by bonus payments to make sure the room is occupied as often as possible.
When your hotel room investment term nears its end, you do not need to worry about how long it will take to sell or how much you will get for it. As part of your contract, you will have a guaranteed capital growth as the hotel management company will be buying it back from you.
As a hotel room is considered a commercial investment, you can put it into a self-invested personal pension, unlike other buy-to-let properties. This will make all income and growth tax-free, providing a nice little nest egg for the future.
This is a fantastic way to get a turnkey hotel room investment that can offer guaranteed cashflow returns, so it's easy to see why more people are now taking this route.
—
DISCLAIMER: This article expresses my own ideas and opinions. Any information I have shared are from sources that I believe to be reliable and accurate. I did not receive any financial compensation for writing this post, nor do I own any shares in any company I've mentioned. I encourage any reader to do their own diligent research first before making any investment decisions.