Source: Live & Invest Overseas
Looking For The Best Places To Retire In 2020?
So you are looking for the best places to retire around the world? That is great. Retiring abroad, and launching a new life in a new country is the adventure of a lifetime. But with an endless array of choices, from white-sand beaches to mountain living, and from Old World culture to ultra-modern metropolises, how do you decide where the best places to retire are for you?
We are here to make that decision a little bit easier for you. We have spent the last year compiling the information you need to make an informed decision. Our editor and writers have traveled to the four corners to enable you to more easily decide which retirement location best suits your needs.
We believe you are never too old to learn, and we never rest on our laurels. This is why we have spent months on-the-ground throughout 2019, ensuring our 2020 recommendations are up-to-date and comprehensive. As for the result, we believe this country-by-country comparison is the best we have ever produced.
Before we get into it, it is worth making a special mention to our number one Overseas Retirement option, the Algarve, Portugal. At the risk of contradicting what was said earlier, the Algarve scores highly across the board. For this reason, we have it as our standalone winner, the place which will appeal to most people.
For this year's results, we´ve listed 13 destinations, creating our most complete Index to date.
13. Malta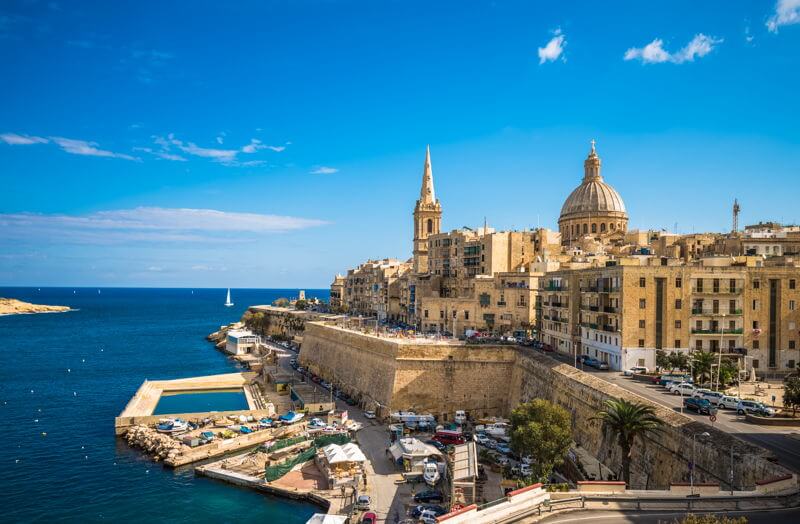 Population: 493,559
Expat Community: Malta counts with a vast ex-pat community from all over the world
English Spoken: English is one of Malta's two official languages
Temperature: About 86°F in summer
Access To And From The States: Easy access through another European city like Paris or Amsterdam
Health Care: Malta health care system is considered the fifth-best in the Its public health care system is free to Maltese citizens and EU residents.
Why Should You Retire In Malta
From its weather and food to its history and culture, Malta is not only the best in Mediterranean Europe but also one of your most affordable options for embracing this lifestyle.
Malta's rugged coastline boasts dramatic cliffs and tiny coves dotted with ancient forts and quaint fishing harbors. Inland, stone walls separate fields of olives, wheat, and potatoes. Wine production is also popular, and, in season, vines hang heavy with grapes all over the island.
At the same time, Malta is a modern, First-World, and EU-member nation with a long-standing, stable democracy. Its second official language is English, and the entire country speaks it fluently. The health care systems and standards in Malta are considered the fifth-best in the world.
Because Malta ticks so many boxes—with its superb health care, low crime rate, fantastic climate, and friendly locals—it is a country with broad appeal… quintessential Mediterranean Europe. And, notably, it's the only place you can experience the famed Mediterranean way of life among locals who speak English.
Where To Retire In Malta
Valletta, the capital city of Malta, is a testament to the country's rich history: It boasts historical treasures on the corner of every winding cobblestoned street. But this is also a modern European capital with great shopping by day and entertainment nearby at night.
In 2018, Valletta was selected the European Capital of Culture, affording it a facelift and restoring many of its beautiful old buildings. This is a great place to live if you like having entertainment on your doorstep, with plenty to see and do regardless of the time of day.
Beyond the city, the gnarled, limestone islands of Malta, Comino, and Gozo conceal an impressive array of caves, scenic sunsets, and some of the most stunning harbors on the planet. Its rugged coastline boasts secluded bays, dramatic cliffs, and tiny coves dotted with ancient forts and quaint fishing harbors.
During summer, towns and villages all over the islands have their own small festivals. Every town or village has at least one feast dedicated to a saint. In the summer months, you can catch one virtually every other week. The feasts usually run for a full week, coming to a climax on a Saturday.
12. Ecuador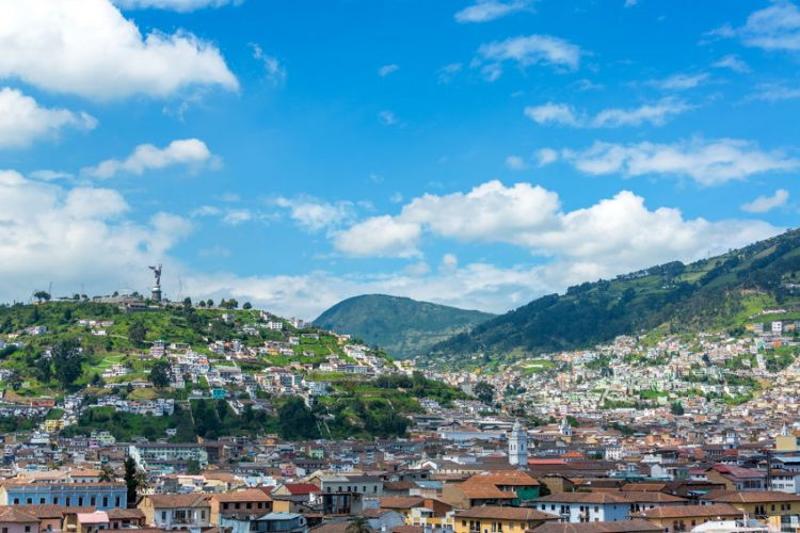 Population: 331,888.
Health Care: High quality, much cheaper than the States.
Expat Community: Established an ex-pat community.
Climate: Mild weather year-round.
Ecuador is becoming one of the favorite retirement destinations for American ex-pats. Historically it was a popular destination for students looking to study Spanish. Today students are being joined by retirees and ex-pats looking to start a new life overseas.
But why retire in Ecuador?
The first thing to mention is the infrastructure. Flights to the States are regular and well priced. Transport within the city is also modern and reliable. You can also get around easily on foot. Many ex-pats report that they lose weight when they arrive thanks to all the extra walking they do.
As a result of its elevation of 2,560 meters, or nearly 8,400 feet, Ecuador has mild weather throughout the year. Springlike is the term often used to describe it. There are two main seasons, rainy and dry. The rainy season runs from January to April.
Cuenca, for example, is famous for its well preserved Spanish district. The best part is that the city doesn't feel like a heritage project. The colonial district has been lived in since it was built and has evolved with the rest of the city. If you want to enjoy colonial-style buildings in a cooler climate, Cuenca is your number one option.
Cuenca benefits from a thriving arts scene. The symphony orchestra is genuinely world-class and performs free for much of the year. There are a variety of museums that host exhibitions from across the world. The annual film festival is another annual highlight.
The cost of living in Ecuador is another big plus. It is by no means the cheapest place to live in South America, but still very affordable. You can live here on social security and pension and live well. The biggest saving comes from the housing. The price of a home in Ecuador is less than 50% of a similar property States. Thanks to the moderate climate bills are reasonable and you won't pay high bills for heating or air conditioning.
11. Indonesia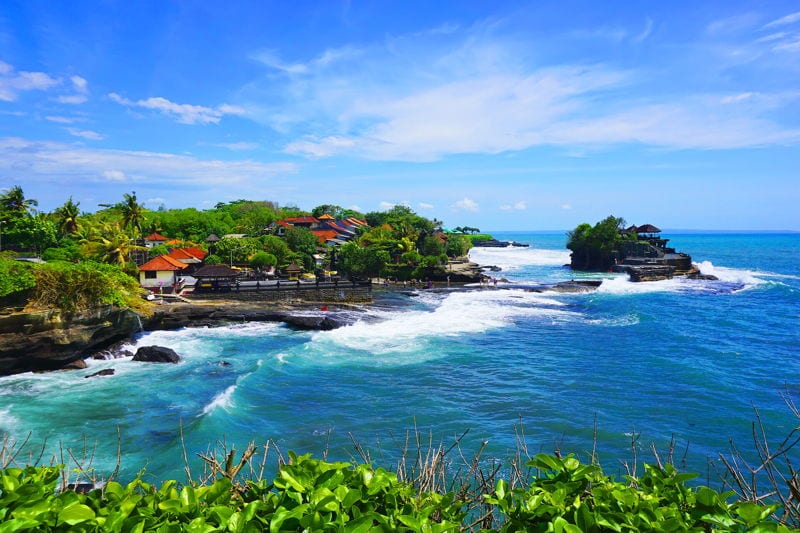 Population: 270.63 million
Expat Community: Yes
English Spoken: Yes
Temperature: 84°F
Access To And From The States: No direct flights
Health Care: Good quality and affordable
Why You Should Retire In Indonesia
Indonesia is the most iconic retirement destination in Asia.
Most people come here to enjoy an outdoors retirement. Indonesia has some spectacular countryside. From jungles to mountains, beaches, and tiny hidden islands. The best place to retire in Indonesia is Bali.
Bali enjoys an almost mythical reputation as a travel destination, and it makes perfect sense… Its beaches and natural beauty are phenomenal, its local culture is fascinating and friendly, and it's an inexpensive place to be.
Bali visa requirements are changing. Over recent years it has become much easier to get a visa for entering Indonesia. The easiest way to get a long-term visa in Indonesia is the retirement visa.
Bali offers a range of health care facilities, from small, specialist clinics to large, private hospitals with emergency facilities, high-tech equipment, and Western-educated doctors. Standards of care are high enough that these facilities are suitable for most treatments.
Although Southeast Asia is inexpensive, one major downside to settling here is the time and expense involved in getting to and from North America or Europe… If regular visits to your home country are part of your plan, you should factor international flights into your budget.
Where To Retire In Indonesia
Canggu (pronounced CHAN-goo), a neighborhood on the southwest coast, is quickly becoming Bali's place to be. It offers an eclectic combination of modern lifestyle and traditional culture… besides soft-sand beaches with surfable waves, a plethora of cafés, bars, and restaurants, and a distinctly residential feel.
Canggu is a modernized Balinese neighborhood, existing in the sweet spot between old and new, local and international, traditional and trendy… Some have even taken to calling it the Brooklyn of Bali because of the quirky combination it offers.
The ex-pat community is big, well-established, and active, full of people from all over the world. There are ex-pats from Canada, Australia, New Zealand, the States, Russia, Korea, Brazil, Japan, Argentina, and Germany to name a few.
10. Slovenia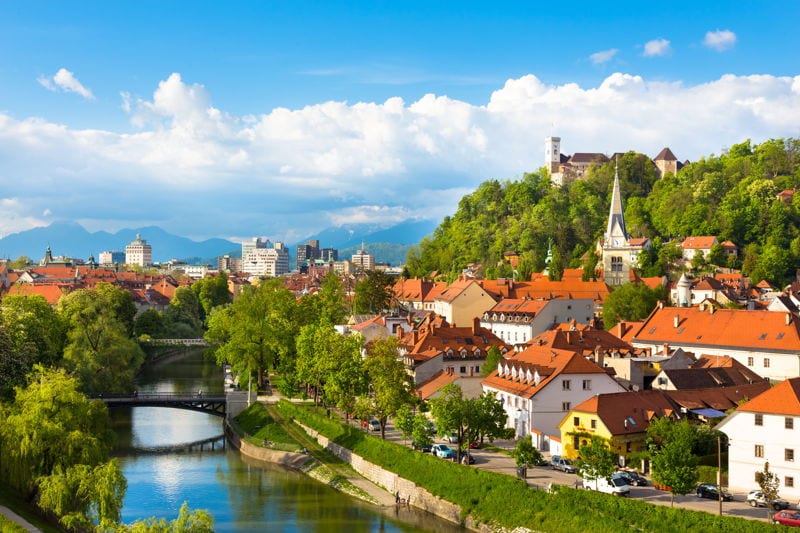 Population: 2.08 million
Expat Community: Yes
English Spoken: Most of the younger Slovenes speak English fluently
Temperature: About 77°F in summer
Access To And From The States: Access to Slovenia through its only international airport, Joze Pucnick, or by road and rail through Slovenia's      neighboring countries like Italy, Austria, Croatia, and Hungary
Health Care: Slovenia's medical facilities are the most advanced in Central and Eastern Europe (globally, Slovenia ranks just below #37 United States, according to WHO).
Why Should You Retire In Slovenia
Slovenia is nestled among Italy, Austria, Hungary, and Croatia in Central Europe. It's the second richest of the 13 Slavic countries. It is a great place to retire.
The country is impressively bio-diverse, occupying an enviable position at the center of four major geographic points: the Alps, the Dinaric Alps, the Pannonian Plain, and the Adriatic Sea. It's the best place to retire for nature and mountain lovers.
Slovenia even has a wine region in the hills around Maribor, also only an hour from the capital. The northeast of the country is home to numerous spas, and the country boasts three UNESCO World Heritage Sites and more casinos than any other country in the EU.
Slovenia has a very low crime rate in general and is ranked the 10th safest country in the world. The OSAC (Overseas Security Advisory Council) has given the country its lowest danger rating. Violent crime is all but unheard of.
Where To Retire In Slovenia
Slovenia's town of Bled is a hotbed of outdoor activity year-round thanks to its diverse natural blessings. Glittering, deep blue Lake Bled is the center of its eponymous town, flanked on all sides by the soaring Julian Alps… A stroll around the lakeside offers a stunning backdrop regardless of the season—bucolic greenery and a riot of blossoming flowers during summer and icicled, snow-covered branches in winter, everything covered in fresh ice and powder.
Bled is refreshingly rural and largely forested, with a rich aquifer system that cuts through its mountains in subterranean rivers. Its surrounding area is impressively biodiverse (and just a 10-minute drive from Triglav National Park).
Slovenia's top Alpine resort, busloads of domestic tourists come to Bled each year to enjoy the hotels' thermal-water-filled pools, its campsites, mountain paths, and boating… yet Bled still manages feels like a genuinely quaint, rural town, almost something out of a fairy tale…
9. Vietnam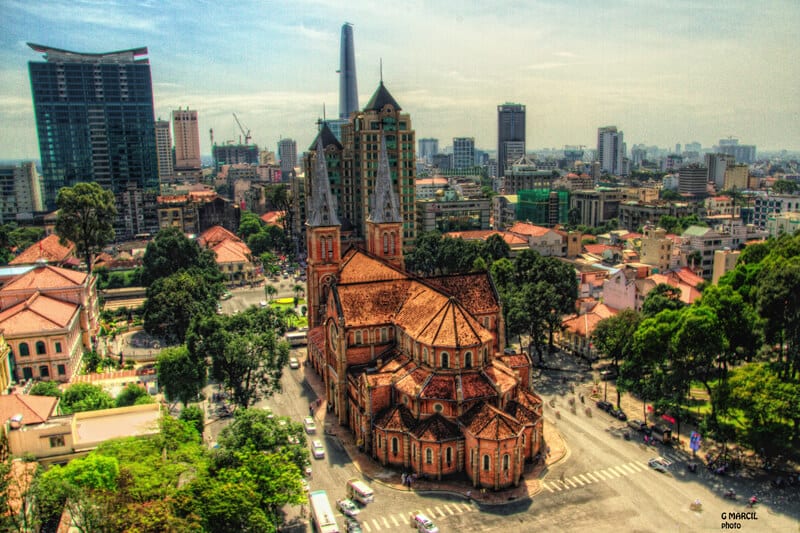 Population: 406,105.
Health Care: Not great, but quality healthcare can be found in Hanoi.
Expat Community: Very few ex-pats.
Climate: Mild, spring-like throughout the year.
The costs of living vary in Vietnam, but always less than in the States. You can find expensive and luxury options and also live more modestly. The strong dollar means that saving your money goes a long way in Vietnam. Eating out is a real benefit of living here. You can eat really well for next to nothing, indeed it's often cheaper to eat out than cook yourself.
The natural beauty and countryside that attracted the French are still there today while the French influence also remains strong. Many of the buildings have French architecture and there are gardens and parks built according to French tastes. A miniature Eiffel Tower is another gift from the past as is the French-style cuisine.
De Lat is the capital of the Lam Dong Province. Also known as Little Paris or the City of Eternal Spring, it is a popular spot with honeymooners. It is also one of the best places to retire in Vietnam.
The town sits at an altitude of 1,500 meters giving it a pleasant climate throughout the year. This relief from the otherwise humid conditions in Vietnam inspired the French to build a vacation resort there.
De Lat is quite a safe place to live. There are little crime and ex-pats and tourists walk the streets without fear.
There are a couple of drawbacks to life in De Lat. One is the lack of English spoken. You will need to be adaptable to thrive in De Lat. The other is the standard of health care. While fine for minor ailments, if you have an existing health condition you will probably want to move somewhere with a higher standard of hospital.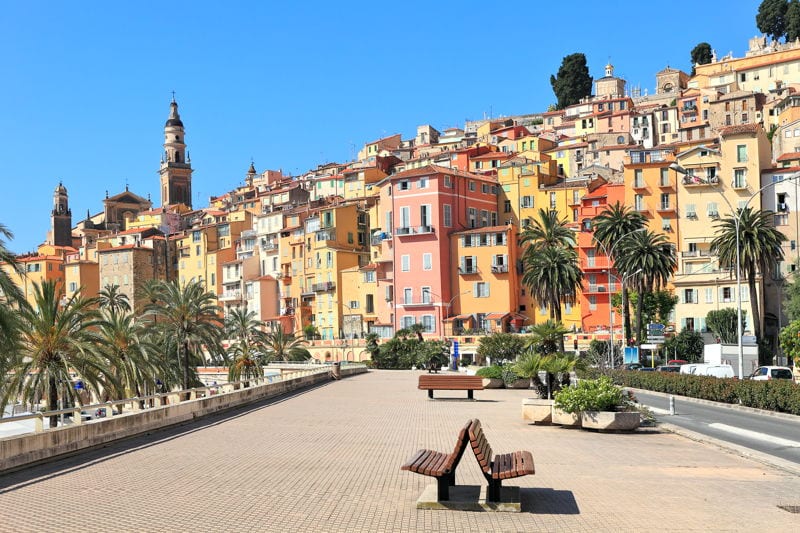 Population: 65 million
Expat Community: Yes
English Spoken: Yes
Temperature: About 65°F
Access To And From The States: Direct flights to Paris
Health Care: Arguably the best in the world
Why Should You Retire In France
France offers arguably the world's best quality of life, and life there is more affordable than you might think.
To retire in France means you can enjoy the world's best health care. The infrastructure is second-to-none, and investment opportunities exceed your expectations.
France's rich history and culture provide retirees with endless opportunities for enjoyment. You'll never get bored.
There's a large variety of lifestyle options. The infrastructure is among the best in the world and less expensive than in many U.S. cities.
These reasons and more make Paris one of the best places to retire in the world.
Where To Retire In France
The best place to retire in France comes down to Paris, the City of Light.
Though it is an expensive city, it can be more affordable than most people imagine. For example, utilities of all kinds are generally cheaper on this side of the pond.
If you're looking to retire someplace with all four seasons, Paris is the choice for you. Here you'll enjoy steamy hot summers and cold winters.
Retiring in Paris means you'll have access to the best medical care in the country and it's all within easy access. You won't have to go far to find any of the care you need. Additionally, doctors still make home visits in France.
Within Paris, we recommend the Marais as the best place to retire. This is one of Paris' most trendy and desirable neighborhoods. It has an excess of historical sites and museums. Yet, this is one of the most expensive places in Paris.
Paris has a huge ex-pat community, a large portion of which is English speaking. Safe to say that retiring in Paris, you won't want for anything.
7. Thailand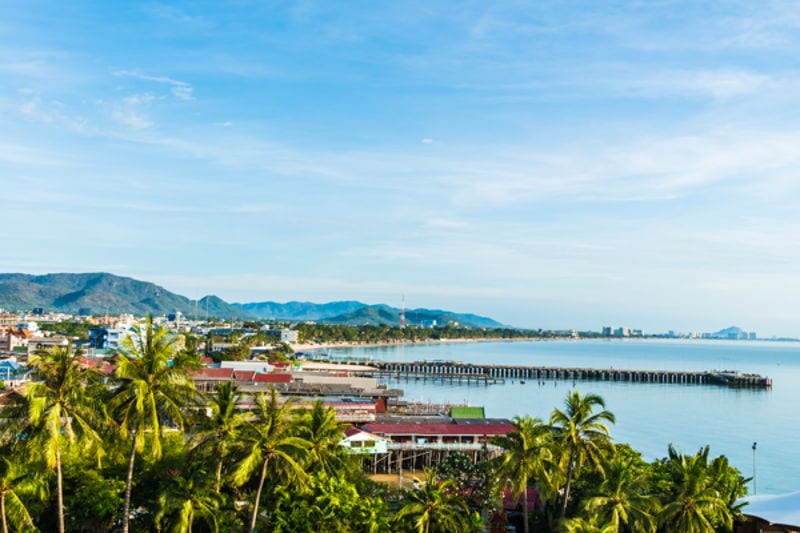 Population: 69.04 million
Expat Community: Yes
English Spoken: Yes, mostly by younger people. We recommend you learn at least basic Thai
Temperature: About 86°F
Access To And From The States: Easy access through Bangkok and Chiang Mai
Health Care: Good quality and cheaper than in the U.S.
Why Should You Retire In Thailand
Considering its diverse culture and geography, Thailand is one of the best places to retire in Asia. Thousands of ex-pats from across the globe settle here each year. This is a real best place to retire in 2020.
The diverse geography ranges from cool, misty mountains, to white-sand beaches. You can live in bustling, modern, super-cities or enjoy the slow pace of life in a small town.
You can be sure that wherever you choose to retire in Thailand, there will already be a few ex-pats there to welcome you.
One of the best reasons to choose retirement in Thailand is that you can get a retirement visa.
Other types of ex-pats will have to show proof of employment in the country or make repeated visa runs to stay. But if you meet certain income and requirements, you can apply for a retirement visa. This will take out some of these steps for you.
The main requirement is to be 50 years or older, and that you open a retirement account in the country with at least US$25,000 to support your living expenses.
Where To Retire In Thailand
You might want to live in one of the Southern areas, such as Phuket or Hua Hin so you have easy access to the beach. The hustle and bustle of Bangkok may not be the best choice for you if you plan to retire in your home in Thailand.
Some people prefer more of the jungle vibe, found in the North in cities like Chiang Mai.
The cost of retirement can vary, but it's safe to say that you could get by on less than US$1,000 per month if you are careful.
It all depends on the area you wish to live in, but the minimum recommended for a retirement visa holder is around US$1,500… to be on the safe side.
Retirees, in particular, have moved to Chiang Mai thanks to the availability of spacious and affordable single-family homes. Typical prices for larger homes range from US$60,000 to US$185,000.
The island of Phuket on the far south-western coast is one of Thailand's top destinations for ex-pats. With its crystal-clear waters and rainforest scenery, Phuket is one of the most beautiful areas in South Asia.
Two- or three-bedroom homes in new developments are one of the most popular options. Their prices can range between US$200,000 and US$500,000.
6. The Dominican Republic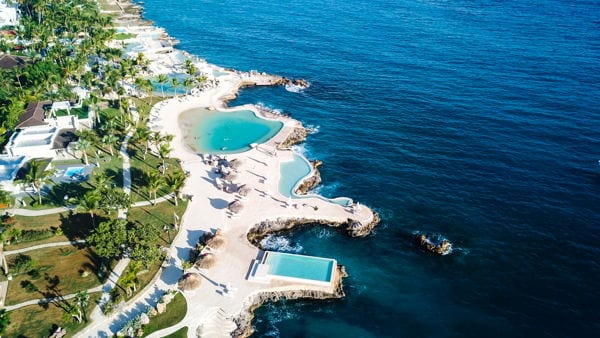 Population: 965,040
Health Care: Good health care and some of the best dental care in the world.
Expat Community: Established an ex-pat community from across the world.
Climate: Tropical climate, warm all year.
The Dominican Republic is a place where you can enjoy the old town colonial living. In Santo Domingo, the city was originally founded by Columbus and is packed with centuries of rich history. In fact, it is the oldest city in the Americas. Today you can find a blend of European architecture and Latin lifestyle. This makes it one of the best places to retire anywhere in the world.
The Caribbean is home to some of the most expensive real estate on the planet out of the reach of most, however, the Dominican Republic is still affordable. Better still, a real estate purchase here comes with some major benefits.
The first is a generous residency program. A backup residency is more important than ever in today's uncertain climate. What better place to go to than the Dominican Republic if you needed to leave the States in a hurry?
The climate and beaches are one of the main attractions of living in the Dominican Republic. The white sand beaches close is amongst as good as you can find anywhere in the world. The waters are warm throughout the year, perfect for swimming, sailing and any number of other watersports.
Transport links to the States are cheap, fast and regular. You can get here in as little as a couple of hours from parts of the US. The government is also investing in infrastructure within the country. Roads are improving all the time, while the Dominican Republic is also marketing itself as a medical and dental tourism location.
5. Italy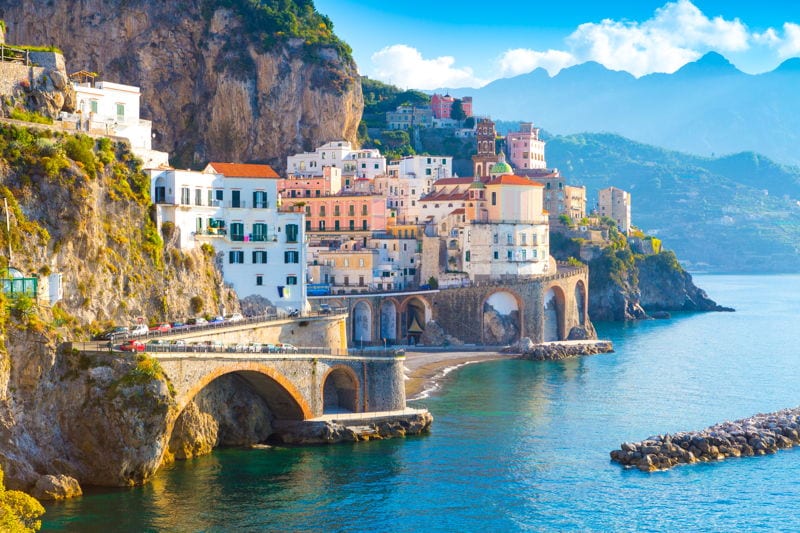 Population: 60.58 million
Expat Community: Yes
English Spoken: About a third of Italians speak English. It's recommended to learn at least basic Italian.
Temperature: About 84°F in summer
Access To And From The States: Easy access through Rome or Milan.
Health Care: Italy's health care is ranked #2 in the world. Citizens and residents have access to their National Health Service for free or at a low
Why Should You Retire In Italy
Italy is experiencing another renaissance… this time as a destination for snowbirds and ex-pats. We're not surprised. In fact, Italy is currently one of the best places to retire in the world. But it's not only retirees looking to move to Italy. Young couples and families are going to Italy to escape, and enjoy a more laid-back lifestyle.
The dollar continues relatively strong against the euro… plus certain corners of Italy can be among Europe's best bargains. If you are looking for Old World charm at an affordable price, Italy should be at the top of your list.
This is a cradle of Western civilization. Italy has more UNESCO World Heritage sites than anywhere else in the world. And what about the food? Italy is definitely the best place to retire for any food lover. The cuisine is world-famous, and each region has signature dishes and its own style of cooking.
Where To Retire In Italy
Perched on a gently sloping hilltop, with sweeping views from the Gran Sasso Mountain to the Adriatic, and rolling hills of vineyards and olive groves in between, walking the stone streets of Città Sant'Angelo truly feels like being in a world removed from time.
Città Sant'Angelo is perfectly located within Abruzzo to give you the best of all worlds—the beach, the national parks, and the mountains are all accessible within just a few minutes of leaving the city limits.
This 9th-century medieval town, nestled between two rivers, is home to magnificent palazzi, piazzas, churches, and monasteries… but also, more importantly, a way of life that hearkens back hundreds of years… nothing here has changed much in that time, and that's the way folks like it.
While small, Città Sant'Angelo is a gem that packs a punch. With a renowned hospital that draws visitors from all over the country and several assisted living facilities, this town is perfect for someone looking to age-in-place while surrounded by history, culture, and fine cuisine.
And it's a bustling, active little city, with jazz concerts, theater, and an old church that draws worshippers from around the region.
4. Colombia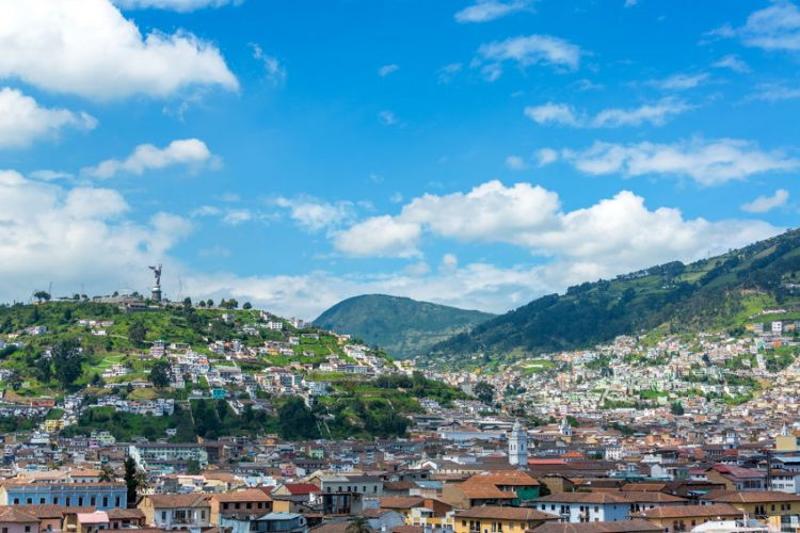 Population: 50 million
Expat Community: Yes
English Spoken: Not widely spoken. Best to learn some Spanish
Temperature: About 75°F
Access To And From The States: Few direct flights to Medellín
Health Care: One of the best in Latin America
Why Should You Retire In Colombia
Escaping from its "drug renegade" reputation, Colombia is now considered one of the world's top retirement destinations.
Colombia offers something for every lifestyle. Here you can enjoy the miles and miles of beautiful coastline. It also has unique colonial cities, awe-inspiring mountain ranges, and some of the best weather in the world. The low cost of living in Colombia is one of the most attractive aspects of drawing in retirees. You can have a premium lifestyle at a not-so-premium price.
Everything from groceries to prescriptions is likely to cost much less in Colombia. Exceptional health care is another reason retiring here is so alluring. You can opt for a pensioners' visa, which starts at a threshold of less than US$1,000 per month.
Additionally, getting residency in Colombia is easy, and you don't need to be there full time to maintain it.
Where To Retire In Colombia
The city of Medellin is an enjoyable place to be and draws visitors from around the world. It is no longer unsafe or unsavory. It is establishing a name for itself as one of the world's most progressive cities.
The retiree who appreciates Euro-chic but doesn't want to travel all the way to Europe will find a match here. Keeping in mind, the expat community is small, but it's growing.
Medellín boasts well-maintained roads and drinkable water. There's also dependable phone service, electricity, and high-speed Internet.
It is the cheapest real city in the world. Thanks to the climate, you could live here with neither heating nor air conditioning. Your utility costs could be almost negligible.
The level of health care in Medellín makes this one of the best retirement options in Latin America. Medellín has some of the continent's best medical facilities and skilled doctors. It is now established as a destination for complex procedures and advanced technology. This includes transplant surgery. It's a major medical tourism destination due to the high quality and low cost of care.
3. Belize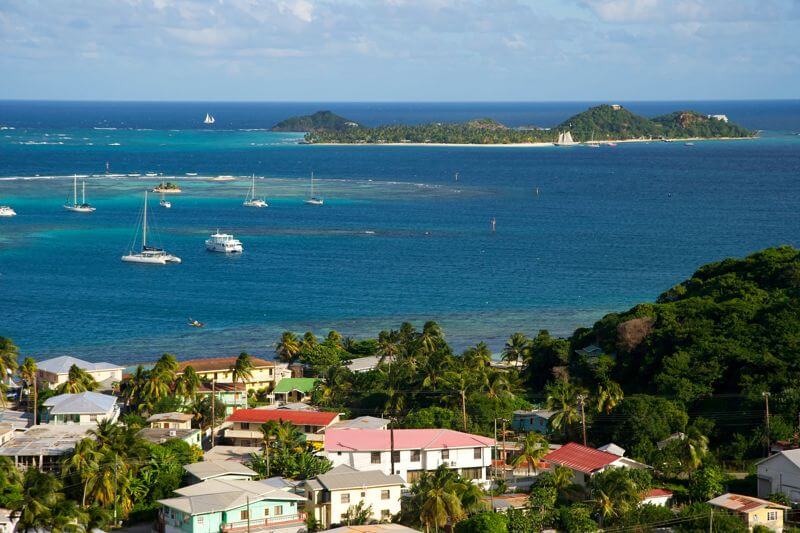 Population: 394,026
Expat Community: Yes
English Spoken: Yes
Temperature: About 77°F
Access To And From The States: Easy access through Belize City
Health Care: Relatively well developed and low cost
Why Should You Retire In Belize
Belize is a safe, welcoming, unassuming little country. The population values personal privacy, self-determination, and freedom, making it one of the best places to retire in Central America. As well as a reef, ruins, rivers, and rainforest, Belize offers easy residency and tax-free living. It's an English-speaking safe haven for both you and your money.
Whenever you're ready to retire, rest assured that both locals and ex-pats will be welcoming. They'll be more than willing to lend a hand or to make an effort for a neighbor.
For non-Americans, Belize offers tax-free living. Legal residency is easy to get through the country's Qualified Retired Persons (QRP) program. It is among the best retirement residency programs on Earth. Foreign residents pay no tax in Belize on non-Belize income. If you're British, German, Australian, or Irish, for example, you could become a QRP and reduce your tax burden to almost nothing.
Belize is also a banking haven, one of the few remaining in the world. Every bank must maintain a minimum of 24% liquidity at all times, and its bankers respect bank secrecy.
It's one of the easiest places in the world to open an offshore account. This is yet one more reason to consider Belize for retirement.
Where To Retire In Belize
Ambergris Caye is a small haven in the Caribbean. It's surrounded by turquoise waters and the second-longest coral reef in the world. Wake up to the gentle lapping of waves onto white-sand beaches outside your window and the faint crash of the ocean in the distance.
The heart of Ambergris Caye is San Pedro Town. This is where the expat community is. It's a quirky, comfortable little beachside town where you can enjoy your retirement in peace. It has open-air bars and restaurants, art galleries, wine shops, and bakeries.
San Ignacio is the second largest town in Belize. Living there offers a lot more convenience than most other locations. The Cayo district is, after all, the commercial center of the country. There is a sizeable ex-pat community that lives there.
While the area is the fastest growing in the district for ecotourism, the crowd remains a balanced mixture of locals, ex-pats, and visitors. This makes for an ideal place to retire without giving up much of your past commodities.
2. Mexico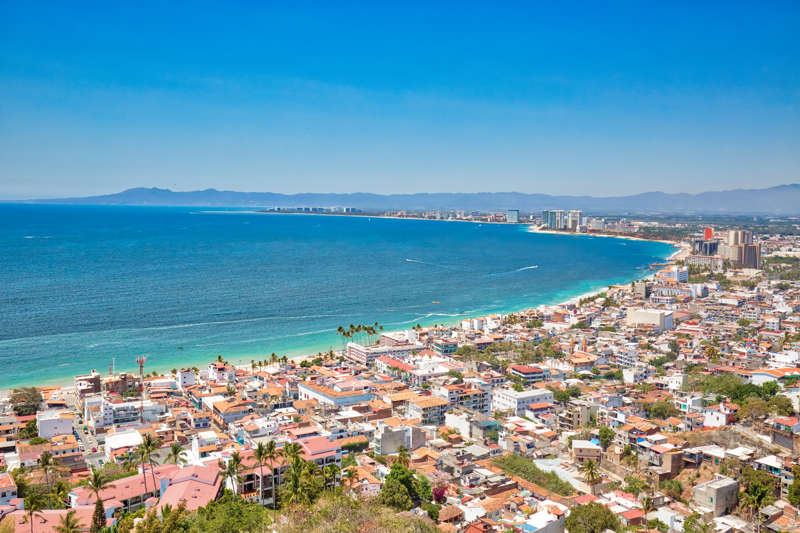 Population: 129.2 million
Expat Community: Yes
English Spoken: Mostly in big cities. We recommend learning Spanish.
Temperature: 82°F
Access To And From The States: You can easily drive or fly here
Health Care: Affordable and international standard
Why You Should Retire In Mexico
Retiring in Mexico has always been a top choice for North Americans looking to escape the cold winters, stretch their retirement budgets, or seeking out an adventure.
For many, Mexico offers many of the benefits of back home, without much of the hassle.
The country is familiar, from its administrative set-up (the Mexican government is a stable democracy, with executive, legislative, and judicial branches functioning in a similar way to those in the United States)… to its big-footprint shopping.
It's easy to go back and forth, making it a top choice for part-time living. Drive down as often as you like without worrying about plane fare.
In the big cities, major ex-pat and tourist areas most people speak English. If you move here you can get by without learning Spanish and be comfortable. If you move outside of these areas, you will find that most people speak only Spanish.
The Mexico health care system provides both public and private options. You can find at least one hospital in every mid-sized and large city. Plus, it is simple and straightforward to buy property in Mexico for foreigners. Yet, you need to do your due diligence and hiring a real estate professional is a must.
Where To Retire In Mexico
You can spend your days strolling the beaches of the Riviera Maya, sipping a "café Americano" from your terrace in Álamos. Or shopping in one of Puerto Vallarta's bountiful boutiques.
If you are the type who enjoys the outdoors, hiking, biking, diving, rock climbing… Mexico has more than enough to keep you engaged.
Mexico also offers shopping, wine tasting, fine dining, and theatre.
Among this country's many attractive lifestyle options, Mazatlán stands out. Real city, beautiful beaches, and walkable colonial center… popular ex-pat choice and authentic Mexican resort town that manages to feel homey… Mazatlán has it all.
That's the thing about Mexico, you can retire here no matter your lifestyle and find your way, making it one of the best places to retire.
1. Portugal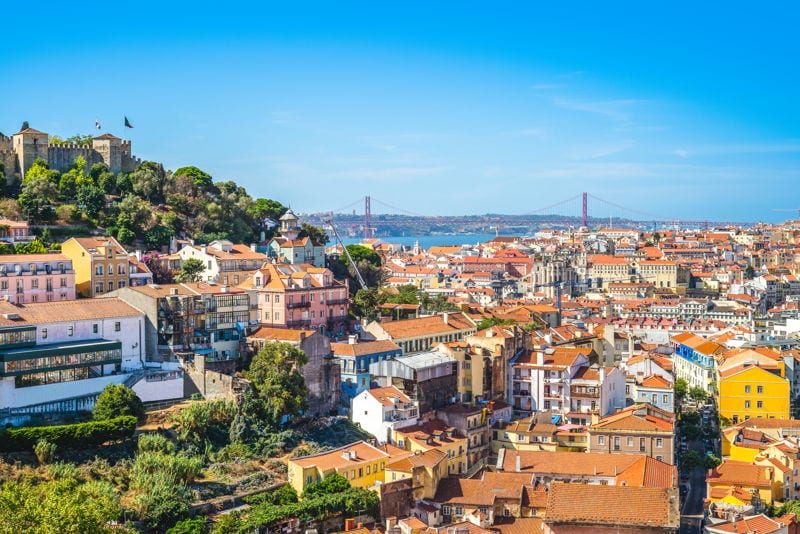 Population: 10.29 million
Expat Community: Yes
English Spoken: Yes, by most people
Temperature: 66°F
Access To And From The States: Direct flights to Lisbon from some major cities in the States
Health Care: Meets international standards and low cost
Why You Should Retire In Portugal
Retiring in Portugal is, without doubt, the best choice if you're not cut out for life in the developing world or the tropics. It enjoys one of the most stable climates in the world and 3,300 hours of sunshine per year. This means sunnier days than almost anywhere else in Europe.
Another benefit is the relative strength of the U.S. dollar versus the euro. If you have income (earned, investment, or retirement) in U.S. dollars, it goes further in Portugal right now than it has in many years. The cost of living in Portugal is among the lowest in Western Europe… on average 30% lower than in any other country of the region.
A couple could live here comfortably but modestly on a budget of as little as 1,300 euros per month. With a budget of 2,000 euros per month or more, you could enjoy a fully appointed lifestyle in this heart of the Old World. Portuguese health care is international-standard, ranked by WHO as the 12th (out of 190) best system among UN-member countries.
Recent legislation allows resident foreign retirees to receive pension income in the country tax-free. The law also provides for reduced taxation on wages, intellectual property, interest, dividends, and capital gains under certain circumstances.
Where To Retire In Portugal
Lisbon's cultural life is rich and busy. As a European capital, the city offers a diverse selection of concerts, theatre, art museums (with collections spanning several centuries), music festivals… and about any other cultural activity, you could think of.
Porto is known for its cobbled streets, colorful buildings, and UNESCO World Heritage sites.
Portugal's Algarve region has 100 miles of Atlantic coastline, punctuated by jagged rock formations, lagoons, and extensive sandy beaches, many awarded coveted Blue Flags from the European Blue Flag Association.
You could rent a two-bedroom apartment in this region for as little as US$720 per month. Or, if you were so inclined, buy an Algarve pied-à-terre of your own today for US$150,000 or even less. Portugal's property market remains nicely undervalued, and, again, if you're shopping with dollars, you've got super-charged buying power right now.
If you are seriously planning your retirement, contact us and we will help you with your retirement planning & investment.